For some time I have been meaning to point out an excellent article on the avant-garde Japanese architectural movement of the 1960's known as Metabolism. The article, by Amelia Groom, is titled Past Futures, was published in Frieze magazine earlier this month, and includes an interview of Pritzker prize-winning architect/theorist Rem Koolhaas by writer/musician Nick Currie (Momus) who was a guest speaker in our zemi in late 2010. Rem Koolhaas has recently published Project Japan, Metabolism Talks, in conjunction with the Metabolism exhibition at the Mori Art Museum in Tokyo last year.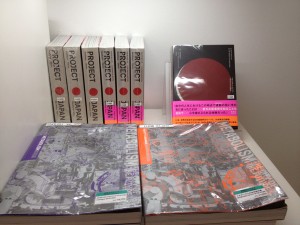 The following quote from the Frieze article, a statement by Arata Isozaki (磯崎新) about the Big Roof pavillon at Expo'70, has stayed with me over the several weeks since I read the article:
Okamoto's tower was allegedly named in reference to Season of the Sun, the 1955 novel by the disreputable current governor of Tokyo, Shintaro Ishihara, in which the protagonist breaks through a shoji paper screen with his erect penis. The Metabolists' disapproval of it is encapsulated by Arata Isozaki's histrionic condemnation in his 2006 book Japan-ness in Architecture: 'Alas, when at last I saw Okamoto's tower (looking like a giant phallus) penetrating the soft membrane of the roof, I thought to myself that the battle for modernity had finally been lost.
Here is precisely the meeting of avant-garde modernity with kitsch in an extremely candid and memorable fashion. As we know, Kenzo Tange's (丹下健三) Big Roof is long gone but the Tower of the Sun (太陽の塔) has become perhaps Osaka's most iconic landmark. I also found interesting a passage claiming Taro Okamoto (岡本太郎) framed this tension in terms of a simplistic Jomon/Yayoi dichotomy:
Okamoto had pushed for modern Japan to embrace what he considered to be the dynamic, primitive spirit of the nation's Jomon legacy (c.14,000–300BCE), as opposed to what was perceived as the refined, reductionist and aristocratic aesthetic of the subsequent Yayoi era (300BCE–300CE).
Such simplifying theories of nationality were no doubt influenced by Okamoto's Surrealist pals during his lengthy stay in Paris in the 1930's.