Tag Archives:
akio suzuki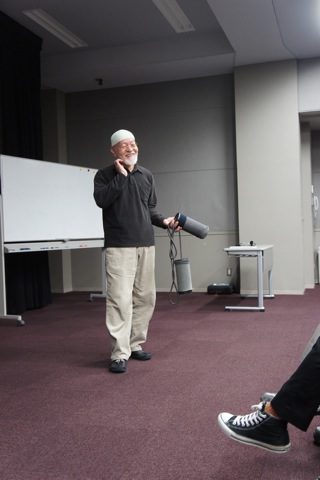 http://www.akiosuzuki.com/
Don't forget that we'll meet in Room 301 tomorrow. Akio Suzuki, a pioneer explorer of Sound Art, will be visiting. I have no idea what he will do which just makes his visit even more interesting.
Suzuki-san really keeps busy. Later this month he'll be giving a workshop on sound art and performance at YCAM (山口情報芸術センター). You can find many videos of his performances on YouTube. Here's a sample of a collaboration with Jim O'Rourke.
Thanks to Atsushi Nishijima, former guest speaker in the zemi, for information about the Rolf Julius Memorial Exhibition which will be at Art Space Niji (アートスペース虹) until April 15th. Rolf Julius, who, sadly, passed away last year, was one of the earliest artists to explore relations between sounds, objects, and settings. Here is a rare and valuable opportunity to see original works by an influential sound artist right here in Kyoto. If you visit the exhibition you may have a chance to meet and talk with people who knew and worked with Julius. I met his daughter, curator and art historian, Maija Julius, gallerist  Sumiko Kumagai (熊谷寿美子) who opened Art Space Niji  in 1981, and art photographer Toshio Kuwabara (桑原敏郎) who showed a work created in collaboration with Julius. The exhibition includes works by other artists that worked with Julius, including Akio Suzuki (鈴木昭男) who is scheduled to be an invited speaker in our seminar in 2012.
Here is a photo of a work by Rolf Julius, linked directly from the Niji Gallery web site:
Access/Opening times for the Exhibition. Note here will be a symposium held at MOMAK (京都国立近代美術館) this coming Saturday afternoon.